Nine long months have passed since

Dominic Thiem

stepped onto court for a tournament.
The AnyTech365 Andalucia Open in Marbella – part of the ATP Challenger Tour – will act as the low-key backdrop for that comeback after a lengthy and often painful rehabilitation process from a sustained wrist injury playing at the Mallorca Open back in June of 2021.
All being well, he will return to the full ATP circuit at Marrakesh the following week.
The former world number three documents his journey back from injury in a brief documentary, Return to Action, as he prepares to put both body and mind through their paces once more on the ATP Tour. Watch the video in the player at the top of the page.
Be sure to download the free Red Bull TV app and catch the Tennis action on all your devices!

Get the app here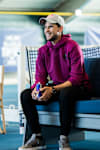 Starting with the initial injury, it proves something of a trip into the unknown, first as his wrist is put into a cast in the hope that the tear causing the issue can heal without surgery.
As he puts it, "the first goal is to heal the injury", which takes him to Red Bull's Athlete Performance Center in Salzburg, Austria.
All manner of processes are used to help speed up that recovery; ranging from placing the damaged hand into liquid wax to create warmth around it, to using electrical pulses to improve the circulation, and even nutrients into the cells as part of that healing process.

But the burning question is whether he needs to undergo the surgeon's knife on his wrist, a potential nightmare scenario for any professional tennis player.
That decision remains with hand surgeon Dr Frederick Verstreken, who explains: "Either it's stable and we continue with the physiotherapy or it is unstable and we consider surgery."
Come October time, Thiem is able to reveal publicly that surgery has been avoided altogether, but there are still issues for him to overcome. After six weeks in a cast, unsurprisingly he says, "it's super-stiff, the right hand and the wrist."

You never know how the body is going to respond especially when he's training at this high level
His hand therapist, Ansgar Sanning, reveals his shock at how restricted the former US Open champion's wrist mobility has become, while Thiem is left pondering quite how the joint will feel once the racket is in hand.
That acid test comes 16 weeks after the initial injury and following three weeks of heavy aerobic training covering 150km of running and core work.
His tennis return begins with a soft ball transition to help reduce the impact on the tendon before stepping up to a regular tennis ball two weeks later.

His brother, Moritz, acts as his occasional hitting partner with Jez Green, who had previously worked with Andy Murray and Alexander Zverev, stepping in as his fitness coach during the process.
For Green, the aim is for a slow and steady return before building up the load, which can equate to training days spanning 12 hours, incorporating a two-hour morning physical condition session, one-and-a-half hours of tennis and a further two hours in the gym later in the day.
As Green puts it: "You never know how the body is going to respond, especially when he's training at this high level, so you always watch for aches and pains and overload, but I'm not so worried. We had a lot of time and we went step by step."
For Thiem, it slowly goes from pain to simply discomfort to nothing at all, enabling him to move on to full swings from the baseline to his eventual full speed of movement in the build-up to his tournament comeback.
After nine months out of action, Thiem is finally declared fit to return to Spain, with a full return to the Tour now within touching distance.