TUSCALOOSA, Ala. — The public got its first peek at college football's most talented pass rush during last weekend's A-Day game. The Crimson Tide's front seven didn't disappoint combining for 15 total sacks and 10 additional quarterback hurries during the scrimmage.
A black, no-contact jersey provided more protection for Bryce Young than his failing offensive line as the reigning Heisman Trophy winner was tapped down 10 times in the backfield. Two of those came from Will Anderson Jr. despite Alabama resting him for the second half. Dallas Turner led the first-team defense with three sacks while fellow edge rusher Chris Braswell and defensive tackle Jamil Burroughs also recorded a pair of their own.
"I think this year is going to be something special," Anderson said following the scrimmage. "I think you guys talk about the 2016 defense pass rush, I feel like you guys are definitely are getting ready to see that again."
Anderson might be right, especially considering that Alabama didn't even deploy its most dangerous pass-rushing set.
Not wanting to give away too much, Nick Saban didn't reveal any new defensive schemes during the A-Day game. However, according to sources, the head coach is cooking up a pass-rushing setup that should cause the rest of college football to panic.
Earlier this spring, Alabama experimented with a formation that put the five-star trio of Anderson, Braswell and Turner on the field at the same time. The look is part of Alabama's dime package and is essentially a 1-4-6 grouping with a lone defensive tackle accompanied by Anderson and Braswell on either side with Turner and Mike linebacker Henry To'oTo'o in behind. The secondary is made up of Alabama's normal dime package with two cornerbacks and two safeties as well as additional defensive backs in the Star and Money positions.
While Alabama has yet to show the look in public, Saban did confirm earlier this spring that he's working on getting Anderson, Braswell and Turner on the field together this season.
"We have a couple of packages where we put all those guys in the game," Saban said. "The goal is to get the best players on the field the best way we can, but they all have to fit a role in a game as well."
Without the benefit of seeing Alabama's new look first-hand, here's a breakdown of the different ways the Crimson Tide could set up the package this fall.
Cover 1 Robber
This setup would be ideal for guarding an offense that came out in a shotgun set with a running back next to the quarterback and four receivers wide.
Here, Turner would blitz behind a front three of Anderson, Tim Smith/Jamil Burroughs and Braswell while To'oTo'o would pick up the running back in coverage. With Turner blitzing and To'oTo'o following the running back, it could leave the middle of the field susceptible to crossing routes. To compensate for this, Alabama could have DeMarcco Hellams drop down into the box to cover while Jordan Battle drifts back to patrol deep.
The rest of Alabama's defensive backs would be in man coverage and would need to stay on their man long enough for the pressure to get to the quarterback — which with a five-star trio of pass-rushers in pursuit shouldn't be too long.
Cover 2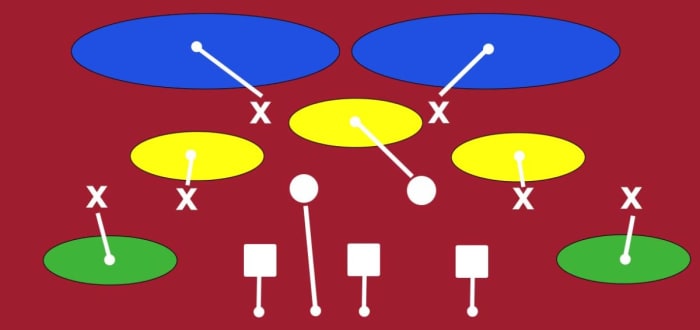 One of the problems with the Cover 1 setup is the coverage responsibilities it places on To'oTo'o. For example, the Mike linebacker might have a hard time keeping up with a running back on a wheel route or dump-off pass out of the backfield.
To guard against that, Alabama could switch its non-blitzing defenders into a Cover 2, calling for To'oTo'o to drop into zone coverage over the middle while allowing its two outside cornerbacks to man the flats. From there, the Star and Money positions could provide additional protection against passes across the middle while the two safeties guard against deep passes.
Alabama is still bringing pressure with four players, including Anderson, Braswell and Turner.
DB Sting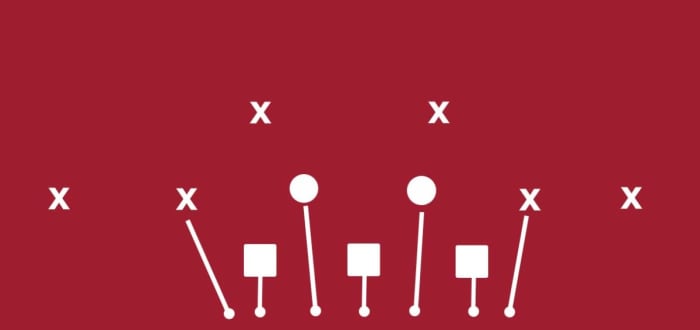 This is an overload blitz that features seven defenders rushing the passer against five offensive linemen. This setup would likely be used against a shotgun offense with a running back next to the quarterback and either four receivers wide or three receivers and tight end.
The four non-blitzing defenders would play in man coverage, picking up a receiver while the running back would likely be left unmanned. While that leaves Alabama susceptible to a big play on a possible wheel route or a quick slant, specifically to the running back, it will be hard for the opposing quarterbacks to get off an accurate throw with Brian Branch and Malachi Moore joining a combination of Anderson , Braswell, Turner and To'oTo'o on the blitz.
Even if the offense elects to use its running back as a blocker, Alabama would still have a blitzing advantage and should be able to get to the quarterback in a hurry.
DB Sting 2 Buzz
Saban joked that he wanted to see more from Anderson in coverage. This defensive setup would call for the edge rusher to display those skills a bit.
Similar to the previous DB Sting, Alabama would blitz Branch and Moore from the Star and Money positions respectively. The difference here is that Anderson and Braswell would drop back into zone coverage in the middle of the field to take away the short slant from the offense.
Meanwhile, the two outside cornerbacks play in zone coverage on the flats while the two safeties provide zone coverage deep. The pass rush calls for just five blitzers, but with Turner, To'oTo'o and Smith pushing the middle in addition to Branch and Moore crashing on the outside, Alabama should still be able to affect the quarterback quickly.
Overload to the right
In previous plays, we've discussed how Branch and Moore could contribute as blitzers. However, Alabama doesn't need to blitz two defensive backs to create ample pressure on the quarterback.
In this setup, Alabama could blitz Branch and Turner on the right while having Braswell, Smith and Anderson all rush to the left. The opposing right tackle would likely look to pick up Turner, which would leave Branch with a free run at the quarterback. This would allow Alabama to get quick pressure without making itself too susceptible to big plays as the rest of its non-blitzing defenders would drop into zone coverage.
Blitzing the opposite defensive back
This is essentially the same play as the one above, except the blitzing slot corner is coming from the other side of the line instead of overloading with Turner. In this setup, Anderson, Smith and Braswell rush straight forward as they no longer have to slant toward the left to compensate for an unbalanced blitz.
In this situation, the left tackle likely looks to pick up Anderson, which would leave the blitzing defensive back — let's say Moore in this case — free to rush the quarterback. Like before, Alabama isn't risking too much as the rest of its non-blitzing defenders drop into zone coverage.
.