With the 2020 NFL Draft set to take place in late April, Bucknuts takes a look back at the former Ohio State players most likely to hear their names called in Las Vegas.
College football knows the name Chris Olave because of what he did during his four seasons at Ohio State, but what those outside of Buckeye Nation may not know is that, unlike many Scarlet and Gray receivers in recent years, the San Marcos, California native's name was not high up in the recruiting rankings when he left high school.
Olave had to sit out his junior season after transferring high schools. As that time is important for players to get seen and evaluated, Olave missed a key opportunity. This led to him being rated as the 399th best player in the 2018 recruiting class by the 247Sports Composite.
What he didn't do was missed when it mattered most, and that was when Ryan Daythen the Ohio State offensive coordinator and quarterbacks coach, came to Mission Hills High School to see Jack Tuttle throw. Hcoach Chris Hause indicated to Day that he also might want to check out one of the team's wide receivers, who happened to be Olave.
Day did and liked what he saw out of the 6-foot-1, 170-pound player. On the recommendation of Day, the Buckeyes offered Olave in October of 2017 and quickly other top programs — Michigan, USC, Tennessee — came in with offers as well. Despite having to travel across the country, Olave committed to the Scarlet and Gray nearly four months later and, even after having second thoughts, joined the program in June of 2018.
It's hard at this point to imagine Olave in another college football uniform other than Ohio State's. After all, he left the program as the Buckeyes' all-time receiving touchdown leader and his name is in the record books after a productive career.
Olave's production started early. While he only had five catches for the majority of his freshman season in 2018, he had no problem working on special teams, something that didn't change once Olave became a starter. The wideout began to see an increase in playing time on offense once fellow receiver Austin Mack suffered an injury.
It was in the 2018 Michigan game where most Buckeye fans had their first memories of Olave. While he only caught two passes for 48 yards, he tied with Parris-Campbell for the team lead with two receiving touchdowns in a 62-29 rivalry win for the Scarlet and Gray. Olave then went out in the Big Ten Championship Game and hauled in five receptions for 79 yards and another score in Ohio State's 45-24 win against Northwestern.
This was just the start for Olave.
Heading into the 2019 season, the sophomore was listed as a co-starter at the Z receiver position with Mack. By the year's end, Olave was the clear top wideout, leading the team with 849 receiving yards and 12 touchdowns. This included five five-or-more-reception games and three multi-touchdown contests. He caught seven passes and two scores in a top-15 battle against Wisconsin in the regular season and made quick work of Rutgers with four receptions for 139 yards.
Olave's continued improved route running and deceptive speed made him a key target for quarterback Justin Fields. The receiver was a major part of a balanced offensive attack that finished the year ranked No. 4 in the country and returned to the College Football Playoff.
Of course, that semifinal game against Clemson is one of a few from his Buckeye career that Olave would like to have back. Despite catching three passes for 50 yards and a touchdown, it was a miscommunication between Olave and Fields on the final offensive play for the Scarlet and Gray that resulted in the quarterback throwing what would have been the game-winning touchdown into the arms of a Tiger defend.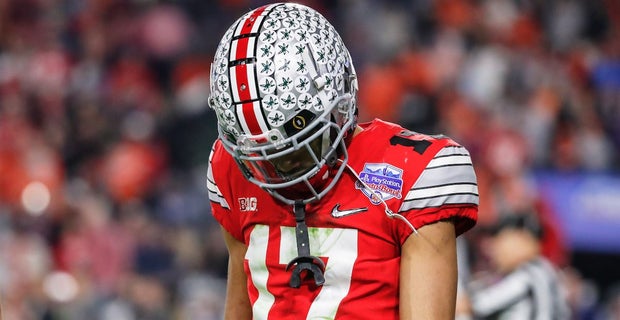 Olave didn't let the rough ending to the 2019 season affect him; in fact, he used it as motivation, as many of his returning teammates did, throughout the offseason heading into his junior year. While that offseason was far from normal due to the COVID-19 pandemic, Olave made sure he was ready to go and was one of the best receivers in the country that year.
Despite only playing seven games as a junior, Olave caught a team-high 50 passes for 729 yards and seven touchdowns. Teamed with sophomore Garrett Wilsonand with Fields still delivering the passes, Ohio State was one of the top offenses in the country once again.
Olave caught at least five passes in every game he played in 2020 and went over 100 receiving yards in all but two. He set a career high, at the time, with 10 receptions for 139 yards and a touchdown against Michigan State before having to miss the Big Ten Championship Game against Northwestern. In a playoff rematch against Clemson, Olave atoned for his mistake from the year prior with six catches for 132 yards and two touchdowns in a 49-28 win.
Buckeye Nation was shocked after the season when Olave announced he would be back for his senior year in Columbus. The receiver was already highly thought of by many in the NFL, but felt he had unfinished business after the Scarlet and Gray lost in the national championship game at Alabama.
Despite having a new quarterback, a redshirt freshman in CJ Stroud who had never thrown a collegiate pass before 2021, Olave didn't miss a beat. The ability of he and Wilson to get open and make tough catches made life much easier on Stroud. With Jaxon Smith-Njigba in the mix, Ohio State had the third-best passing offense in the country and Olave was a major reason why with a career-high 65 catches for 936 yards and a team-best 13 touchdowns.
What's next for the Buckeyes? Make sure you're in the loop — take five seconds to sign up for our FREE Buckeyes newsletter now!
Want the latest scoops and news on the Buckeyes? Try our 7-DAY FREE TRIAL AND BECOME A BUCKNUTS SUBSCRIBER!
Olave had seven games with at least five catches, including hauling in 12 passes for 126 yards against Oregon. Against Rutgers and Maryland midseason, Olave had back-to-back two-touchdown games and also had 119 and 120 yards respectively in each contest. He set a new career high with 140 receiving yards late in the season against Michigan State.
For a player that wasn't considered by many Power 5 programs as his high school career came to an end, Olave sure did well for himself during his time with the Buckeyes. He finished his college career with 175 catches for 2,702 (fifth most in Scarlet and Gray history) and the record-setting 35 touchdowns.
Olave now heads to the NFL Draft, this time considered one of the top prospects as he moves to the next level of this career. It is as close to a certainty as anyone can have heading into a draft that Olave will hear his name called in the first 32 picks.
Not bad for a former three-star recruit.