North Carolina will be one of four teams to participate in the first-ever Jumpman Invitational next season, a multi-team event featuring four Jordan Brand schools, as announced by the Charlotte Sports Foundation.
UNC, which has four of its starting five and 75 percent of its scoring returning from the 2021-22 team that reached the national championship, will be joined by Michigan, Oklahoma and Florida for the event. The Gators will face the Sooners on Dec. 20 and the Tar Heels will face the Wolverines on Dec. 21.
The event includes both the men's and women's teams from each school with two games being played on each night.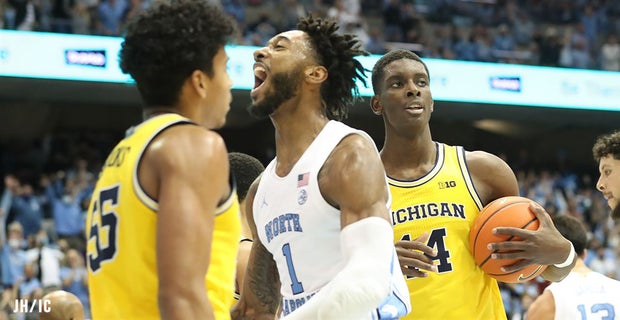 "We're incredibly excited to bring what we believe will quickly become the marquee college basketball event of the holiday season to the Queen City," Danny Morrison, executive director of the Charlotte Sports Foundation, said. "These are four of the most storied and competitive programs in the game, and we're looking forward to the interconference play."
"I've got to thank Oklahoma Athletics Director Joe Castiglione for being the first to suggest getting the original four Jordan Brand schools together for an event," added Morrison. "And our Board of Directors is especially pleased to highlight both men's and women's college basketball in this way while offering the same amazing experience for all the players, coaches and fans."
It is unknown at this time if the event will be an annual deal, although Morrison did say there is potential for plans to expand the event and include additional Jordan Brand schools in the coming years.
The games will take place in the Spectrum Center in Charlotte, the home of the Charlotte Hornets, the NBA team that Tar Heel great Michael Jordan owns.
"Charlotte has a rich history of hosting high-profile basketball events, including the NBA All-Star Game, NCAA Men's Basketball Tournament games, the ACC Men's Basketball Tournament, the CIAA Men's and Women's Basketball Tournaments and this year's Naismith Basketball Hall of Fame Shootout ," Charlotte Mayor Vi Lyles said. "We look forward to welcoming basketball fans from across the country to enjoy our hospitality and culture, and we're grateful to the Charlotte Sports Foundation and Jordan Brand for organizing this event that will bring so much recognition and positive economic impact to our city. "
UNC is 5-4 all-time against Michigan with the most recent contest being a 72-51 win in the Dean E. Smith Center last season. It is 3-0 all-time against Oklahoma and 2-2 against Florida with the last games against those schools coming in 2009 and 2014, respectively.
UNC, Michigan, Oklahoma and Florida are the original four Jordan Brand schools. The brand has expanded to sponsor eight athletic departments – Houston, San Diego State, UCLA and Georgetown in addition to the Tar Heels, Wolverines, Sooners and Gators.