We set the stage for what is going to be a wild week for Nebraska and college football in our Weekly Rundown column.
sure bets
You have to feel pretty good about these things right now:
A week unlike any before in the portal era: The NCAA transfer portal began on Oct. 1, 2018. It's impacted the game unlike we've ever seen before.
This week is sure to be another one of those mile-marker weeks in transfer portal history. Any player who wants to be eligible for the 2022 season must be entered into the portal by May 1. This is a new rule for this season.
There were 72 FBS and FCS spring games alone this past weekend. That means this week is going to bring a rapid run of "exit meetings" that could potentially flood the transfer portal at an unprecedented rate.
In some way, the May 1 rule is good. This keeps guys on your campus for summer workouts and you don't have to necessarily worry about a player skipping town after that deadline unless they are willing to sit out the season.
A decision from TCU's Ochaun Mathis: All eyes will be on social media this upcoming Saturday, when TCU transfer portal defensive end target Ochaun Mathis will announce his decision between Nebraska and Texas.
Mathis was in Austin this weekend for UT's spring game. His former head coach at TCU, Gary Patterson, is now part of the Longhorn coaching staff.
With that said, the Huskers still feel very good with where they stand today, per multiple sources I spoke with over the weekend. But there's a long time between now and Saturday.
A probable decision for Texas Tech's Devin Drew: Besides Mathis, the other major transfer portal target the Big Red is courting is Texas Tech interior defensive lineman Devin Drew.
The Kansas City native and former Iowa Western CC product was in Lincoln this weekend. He's also visited Illinois and is reportedly considering TCU and Indiana, according to a source with knowledge of his recruitment.
Drew would be a home-run transfer portal addition with the experience and durability he brings, along with the need he would fill. You have to think a decision could come this week. If it does, I like the Huskers' chances right now.
Rethinking the spring soccer calendar: This year we saw Nebraska start spring practice on Feb. 28 in order to install new field turf at Memorial Stadium in time for the spring commencement ceremony on May 14.
In theory, this didn't seem like a big deal, other than losing two weeks of winter conditioning.
However, I think the big thing now is you want spring practice to end as close to May 1 as possible. This helps protect your roster and it gives you better day-to-day access to your team.
Apr. 15 to May 31 is the spring recruiting evaluation period. The way it should really read is Apr. 15 to May 1 is the spring "re-recruitment of your own roster," and then the evaluation period begins after that. The last two weeks of April now are more critical than ever to make sure your house is in order.
If the Huskers played their spring game on Apr. 23, would a player like DE Casey Rogers have had time to think about entering the portal? NU played their game on Apr. 9 and Rogers entered the portal on Apr. 20.
The earlier your spring ball ends, the more time it allows people to maybe get into the minds of your players, causing situations like we saw this past week with Rogers. Nothing about Rogers' entry into the portal makes any sense, especially for a player the locker room was counting on for 2022.
Surprises
These were my surprises of the week:
Casey Rogers: As I mentioned, nothing about this one makes much sense, but that is the college football world we live in now.
Rogers will get his degree this spring, and he had incredibly bad injury luck in 2022, suffering a dislocated knee cap and another major knee during a QB kneel down on the final play of the Iowa game.
Rogers strikes me as a guy that wanted a clean slate, even though he more than likely had a starting job in front of him for 2022.
I also can't help to think what a guy like Rogers thinks when he hears what type of money transfer portal players are bringing in on the open market.
Scott Frost in Grand Island: Head coaches are not allowed to go on the road for recruiting visits during the spring evaluation period.
That downtime can make the spring one of the slowest times of the year for a head coach, especially when the team goes home in May.
On Saturday, I thought it was pretty cool to see Scott Frost out in Grand Island watching John Cook's Nebraska volleyball team play their spring scrimmage against Kansas in the Heartland Event Center.
We honestly haven't seen Frost out like this in the public in a while. One person at the event told me Frost took pictures with fans in attendance for nearly an hour.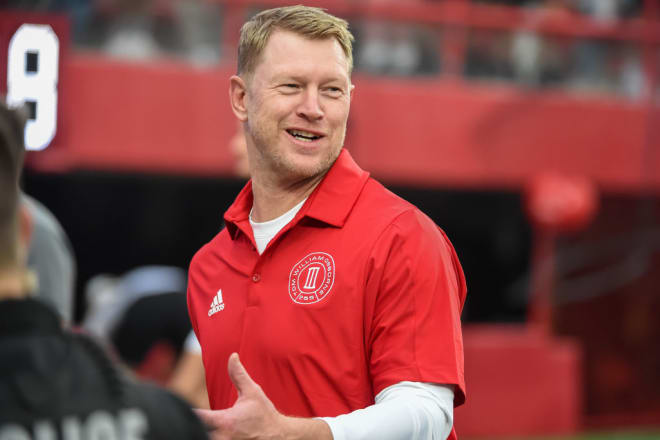 The jury is still out
Questions still surround these things:
What other players will be entering the portal for NU?: We know Rogers has entered the portal. What other players from Nebraska will enter this week?
This is something we still don't have a great feel for, but you have to think we'll see multiple portal entries this week.
Baseball qualifying for the Big Ten Tournament: The Nebraska baseball team has gone 1-5 in their last two Big Ten weekend series.
They currently sit in eighth place in the conference standings. Only the top-eight teams qualify for the Big Ten Tournament in Omaha over Memorial Day weekend.
The one saving grace for the Huskers is they still play Michigan State and Minnesota – the worst two teams in the Big Ten. They also have second place Illinois and fourth place Iowa remaining.
How many Huskers will be drafted?: NFL Draft week is finally here. How many Huskers will hear their name called?
That number could be anywhere from three to five. We also should see a Husker drafted on Friday for the first time since 2016.
This has my attention
Moving forward, this has my attention:
The new field turf in Memorial Stadium: I was able to catch a glimpse of the new field turf on Saturday inside Memorial Stadium.
It's amazing how quickly they got this project turned around. The turf has a darker look to it, and the new red lettering looks sharp.
Spring game attendance numbers: There are still four Power Five schools that will play spring games this upcoming weekend, but none of them are expected to draw large crowds.
As of this weekend, Nebraska ranks fifth nationally in spring game attendance at just over 54,000, only behind Oklahoma (75k), Georgia (68k), Penn State (62k), and Ohio State (60k).
Say what you want about the Huskers results on the field over the last five years, it's simply remarkable the support this program continues to get.
More NIL discussion: We are going to see several unexpected players nationally enter the transfer portal this week – at least that's my prediction.
NIL is going to be the driver of a lot of this, along with the May 1 deadline. As some of this happens and these players transfer to schools with good NIL operations in place, it's going to lead to an outcry for change. The problem is, I don't know how you can do it. We are where we are right now because of the money being made playing this game. The players are now getting a piece of it.
Tate Wildeman: You win some and you lose some. Former four-star defensive lineman Tate Wildeman is a perfect example of that.
Wildeman never saw a down of significance in the last four years and is now on a medical scholarship. At the time of his recruitment, he felt like a can't-miss guy.
2024 prospect Henry Prochazka: 2024 Elkhorn South defensive lineman Henry Prochazka is the younger brother of current Nebraska offensive lineman Teddy Prochazka. This weekend he was in Indianapolis at the Rivals Camp Series event and received an invite to the National Underclassman Challenge in Atlanta.
Prochazka and Gretna QB/Oklahoma State commit Zane Flores were the only Nebraska natives that received invites to the event in Atlanta. Omaha Burke's Christian Jones, Elkhorn South's Maverick Noonan, Creighton Prep's Rocco Marcelino and Omaha North's Tyson Terry were also notable at the event.
The younger Prochazka definitely appears to be another offer-worthy Husker target in 2024.
New portal targets: With the May 1 deadline, what will this week bring for Nebraska in terms of new transfer portal targets? Will there be any weekend visitors?
Thus far, the Huskers have hosted Mathis and Drew, and we may know both of their decisions before May 1. I anticipate multiple new names to emerge in the coming weeks.
Sean Callahan can be reached at sean@huskeronline.com and he can be heard each day at 6:45 am and 5:05 pm on Big Red Radio 1110 KFAB in Omaha during the football season. He can also be seen on KETV Channel 7 in Omaha during the fall and each week he appears on NET's Big Red Wrap-Tuesday's at 7 pm.