Carlos Alcaraz and Iga Swiatek are having the time of their lives. Both the youngsters have been finding tremendous success on the tour. The 18-year-old from Spain who won the Barcelona Open recently also broke into the top 10, and he also won the Miami Open recently, becoming the youngest person to win the tournament.
WARNING
Article continues below this ad
On the other hand, Iga Swiatek is dominating the WTA circuit, having won 4 titles back to back, starting with the Qatar Total Open, continuing with the sunshine double at the Indian Wells and Miami Open. She then also won her first Stuttgart Open, further consolidating her position at the top.
WARNING
Article continues below this ad
But recently the duo got trolled which legend Chris Evert found "hilarious"
Carlos Alcaraz and Iga Swiatek's hilarious fake exchange
Recently a tweet about the duo has blown up, and Twitterati is finding it endlessly amusing. This comes after Alacarz said something along those lines after their Miami Open win. He said that he had texted the Pole congratulating her, but apparently Swiatek had not replied.
To this, a fan-made a hypothetical dialogue between the two, which many has found funny. Their newfound success on the tour is not the only common thread that they share. Both of them are also great fans of Rafael Nadal. While Alcaraz has practiced with the 21-time Grand Slam Champion, at the Rafa Nadal Academy in Mallorca, Swiatek is a regular at his matches, whenever possible, and has also practiced with him in some tournaments here and there.
The troll tweet also referred to this and hilariously said, "Carlos Alcaraz about Iga Swiatek: "Iga and I got dinner after our finals. I tried to hold her hand. She said the only male hand she'll hold is Rafa's. I understand. It is Rafa, after all."
DIVE DEEPER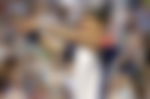 18-time Grand Slam Champion Chris Evert also retweeted the tweet and said that this hypothetical exchange was positively hilarious!
WARNING
Article continues below this ad
Other Rafael Nadal fans also have good news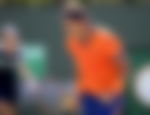 Not just the high-profile ones, fans of the Spaniard worldwide, have received good news. Nadal recently announced that his rehab schedule has been on track and he is looking to make a return to Madrid Open.
WARNING
Article continues below this ad
WATCH THIS STORY: The Greatest Comebacks in Tennis
This will his first tournament on clay, this season since he could not play at Monte Carlo or at Barcelona due to his stress fracture.