Indiana All-American forward Trayce Jackson-Davis has until June 1 to decide if he wants to remain in the 2022 NBA Draft or withdraw from the player pool and return to Indiana for a fourth season.
While there are several components that are sure to impact the 6-foot-9 forward's decision, Jackson-Davis said he will keep an especially close eye on his NBA Draft projections throughout the process, he told Peegs.com's Jeff Rabjohns.
As the updated projections currently stand, Jackson-Davis is not included in CBS Sports mock draftnor in CBS Sports' 2022 NBA Draft Prospect Top 60 rankings. Notable players ranked ahead of Jackson-Davis in the prospect rankings include Arizona center Christian Koloko at No. 40, Wake Forest forward Jake LaRavia at No. 44, and St. John's forward Julian Champagnie at No. 49.
Similarly, ESPN views Jackson-Davis as a fringe second-round pick or a potential undrafted free agent. In Jonathon Givony and Mike Schmitz current ESPN mock draft, Jackson-Davis is not among the 58 players selected in the first or second rounds. Players with similar skillsets such as Koloko, Purdue forward Trevion Williams, and Memphis forward Josh Minott are all included in the mock draft, while Jackson-Davis remains on the outside looking in.
One of the few draft projections that is higher on Jackson-Davis than most is NBADraft.net, which currently tabs the Toronto Raptors selecting Jackson-Davis with the No. 33 overall pick and the third pick of the second round. The media outlet also has Jackson-Davis as the No. 35 overall prospect in the upcoming draft.
Bleacher Report contributor Jonathan Wasserman is also optimistic of Jackson-Davis' upside, slotting him as the No. 46 overall pick going to the Detroit Pistons.
"From the Big Ten tournament to the NCAA tournament, Jackson-Davis scored 117 points over a five-game stretch," Wasserman wrote. "No shooting and limited handles are obviously a turnoff for today's NBA, but Jackson-Davis may be skilled enough in the post to make money. His athleticism, touch and use of angles are outstanding."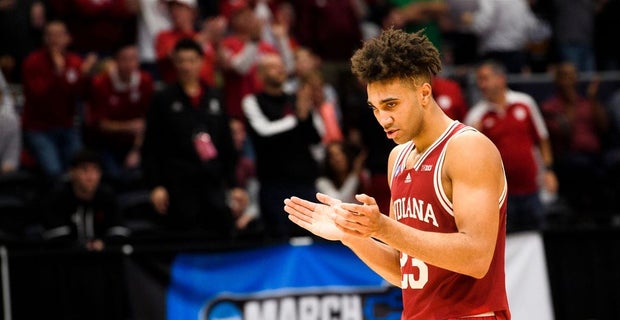 In his junior season at Indiana, Jackson-Davis averaged 18.3 points, 8.1 rebounds, shot 58.9 percent from the field and 67.4 percent from the free-throw line. Despite some mid-season struggles, Jackson-Davis exploded late in the season, including being named to the All-Big Ten Tournament team after averaging 25.3 points and 8.3 rebounds across three games in the postseason.
For his IU career, Jackson-Davis is averaging 16.9 points, 8.5 rebounds and 1.8 blocks per game, while shooting 55.8 percent from the field and 67.0 percent at the free-throw line. He is also a three-time All-Big Ten selection, and as a sophomore was named Third Team All-American by the Sporting News, NABC and US Basketball Writers Association.
Jackson-Davis is only the second player in IU history to surpass 1,500 points, 750 rebounds and 150 blocked shots, joining Alan Henderson.
As a recruit in the 2018 class, Jackson-Davis was rated a four-star prospect, No. 28 player nationally, and No. 3 center, according to 247Sports.