While the demanding Rodney Garner may live more in the daily details and operate with more of an unquenchable standard in coaching Tennessee's defensive line, Omari Thomas isn't afraid to look at the big picture and assign a label to what he and the Vols want to accomplish this season. The former top-100 prospect coming off a solid finish to his sophomore season has shifted from following the leader to taking on a spot in front of the line this offseason, and he admits and his teammates want Tennessee to have college football's best defensive line. It is ambitious, yes, but Thomas can put that out there because he knows it starts with him, both as a player and as a leader.
By most accounts — not including Garner's, though — Tennessee exceeded expectations on its defensive line in 2021. The unit accounted for more than half of the defense's 102 tackles for loss, a single-season Tennessee record that ranked in the top 10 nationally, and helped the Vols rank sixth in the SEC and 36th nationally in run defense (if you go by yards per carry allowed). However, it was still a third of a defense that allowed nearly 42 points per game in its six losses, opponents scoring at least 38 points in five of those games.
If improvement is in the cards for Tennessee's defensive line in 2022, it'll come without the influential Matthew Butler and a couple of other veterans. Butler was the daily tone-setter for the group to follow and the ironman who played the most snaps without dropping his levels. The veteran was relentless in finding ways to improve even during his fifth season at Tennessee, playing for his third head coach and fifth position coach.
They are big shoes to fill, but Thomas has taken it upon himself to step into the void and push the Vols to reach the lofty goal they've set among themselves and meet Garner's even more impossible standard.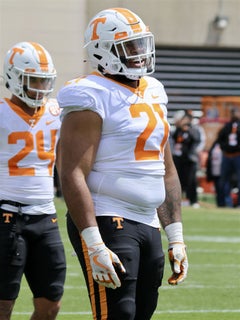 "I feel like just when you have players like Matt Butler, who led me when I was a young player," Thomas said after one of Tennessee's spring practices, "just being under his wing — I can be able to have a few steps, learn a few things from him. Now it's just time for me to step up and be a more vocal leader rather than a person (who) sees me do it right. I've got to be more vocal."
One player does not the best defensive line in the country make, and Tennessee again figures to rely on a heavy rotation up front, but Thomas can be viewed as a potential difference-maker for the Vols. The Memphis native started six of the final eight games and all four November contests, and in the second half of the season he totaled 15 tackles, three tackles for loss, one sack, three pass breakups and two quarterback hurries. His flashes were signs of tangible progress.
But much more will be required for a player Garner, who put a long list of defensive linemen in the NFL during his time at Georgia and Auburn, believes can be a "championship-level" SEC defensive lineman.
"For me, what I've been looking at this offseason is really just continuing to keep my pad level low, coming out and using my hands and just continuing to play physical and be fast off the ball," Thomas said. "I feel like that's what the team needs as a defensive line and that's what I'm trying to put out there and that's what I'm trying to produce as a defensive line for me and for the players beside me as well. (They're) trying to do the same thing, and we just want to be the best defensive line in the country."
Garner and the Vols also have thrust the 6-foot-4, 320-pound Thomas into a leadership position within his position group and the entire defense. He has face-of-the-program potential and natural leadership ability, but it's only part of the equation for him. Those kinds of players and those kinds of leaders also have to deliver on the field for full effect.
"If you're going to be that, then to whom much is given, much is required," Garner said. "So he's got to make sure that everything that he does meets those types of expectations, because every play that he makes is going to be scrutinized. He's got to make sure that he's on top of his game and he's improving his game where he can help himself become a more elite-level, championship-level defensive lineman for this league."
He added: "Obviously I think Omari has great leadership skills. We need him to take that next step, but he has great verbal skills and leadership skills. He's natural at that, but now I need for his play to match that, OK? Because that's when you're really a leader, is when your play matches it and shows it. But I think he has a chance to be a good leader."
In terms of leadership, Thomas has learned from one of the best in Butler. The NFL-bound defensive lineman was a coach's dream because of his non-nonsense approach, consistency and drive to find ways to get better. It paid off in his play last season and it's about to pay off literally with Butler solidifying himself as a mid-round NFL Draft pick this weekend.
Thomas and Butler built what the former called a "real good connection" during their two seasons as teammates. They would hang out outside of the Anderson Training Center and remain in contact, keeping each other uplifted and encouraged on their respective paths this year, Thomas with spring football and Butler the pre-draft process. Having watched Butler work and lead the past two seasons, Thomas has a really good example to follow and continue to take lessons he learned from him as a freshman and sophomore and apply them now that he's an upperclassman.
"One thing I learned from Matt is just being able to listen," Thomas said. "As a leader, you've got to be able to listen regardless of how much you might be vocal to someone else. You've got to be able to hear it in as well. Just because you're a leader don't mean that you can't do wrong, so you've got to be able to be ready when the players on your team correct you as well. That's a big thing that Matt told and that's something that I've been really learning in some of my (leadership) classes as well."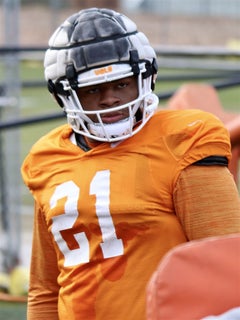 Thomas's growth as a leader has been evident to his coaches and teammates this offseason.
"One person that's stood out to me is Big O," defensive tackle Elijah Simmons said. "He's really stepped up as a leader. He's actually in a couple of the leadership groups with the VOLeaders and things like that, but he's come a long way. He's gotten way better."
On the field, Thomas believes Garner has helped him "become more twitchy off the line" and play with improved get-off, pad level and physicality, and he thanked the accomplished defensive line coach for "instill(ing) in me hard" those attributes.
Knowing his teammates are looking to him to lead, Thomas is working toward making that big jump ahead of next season in the hopes that others will follow his lead for the benefit of both themselves and the defensive line.
"I feel like Amari McNeillhe's made a big jump. Bryson Eason. Dominic Bailey. All the young guys coming in — Tire West, Jordan Phillips — everyone's just continuing to make strides every day," Thomas said. "We're just doing the best. We come in our meetings, everyone's locked in, everyone's helping each other, because we all know we need each other.
"We count on each other to be the best defensive line in the country. And that's our goal, so everyone's pulling in the right direction for that. We've just got to be able to hold everybody accountable."