23-time Grand Slam winner Serena Williams has achieved many things from tennis and is still probably looking for more. However, her achievements outside of tennis are pretty impressive as well. Several of her businesses and brands, such as clothing brands, jewelry brands, and others, have already achieved great success worldwide. Sometimes, she poses wearing her own products and posts on her social media. Recently, she did the same, as her latest fashion is blowing the minds of her millions of followers.
WARNING
Article continues below this ad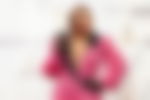 Serena Williams' latest black dress
WARNING
Article continues below this ad
Undoubtedly, Serena Williams is one of the most fashionable tennis stars in the world. Her clothing brand, S by Serena, always produces unique and stylish clothes. And Serena wears them and posts them on her social media, particularly on Instagram.
In the latest Instagram post, she wore a black suit and a pair of black high heels. With her curly hair, she looked absolutely stunning in this photo. In the caption, she wrote, "All black errything…"
Serena's own jewelry and clothing company also commented on this Instagram post. Serena Williams Jewelry posted some emojis to express their love for her. And her clothing brand wrote, "You can never go wrong in all black."
Also, many fans commented on this Instagram post. One fan wrote, "CatWoman 🔥🔥🔥"
Another one wrote, "You never look bad!! 🔥🔥🔥"
Someone said, "Absolutely stunning 😍❤️"
One person wrote, "My favorite person in the whole wide world ❤️😍"
Meanwhile, this is not the first time Serena posted something like this. Previously, she also posted some beautiful pictures wearing the new collection of her own brand. Sometimes, her daughter Olympia also joins her for a cool-looking photoshoot.
Serena is doing investments for the future
With her own brands alone, she could earn a lot of money in the future. However, she has decided to invest in various start-ups and cryptocurrencies. Her Venture Capital firm, Serena Ventures, recently grabbed all the headlines after raising a massive amount of money. She also grew some interest in Bitcoin and other cryptocurrencies.
WARNING
Article continues below this ad
Currently, Serena is 40 and might soon think about her retirement. So, a lot of investments make a genuine sense, as she is planning for the future. However, she has already indicated that she is not done with tennis yet, as she is still chasing her 24th Grand Slam title.
Watch This Story: Serena Williams' impactful guest appearances on TV
WARNING
Article continues below this ad
Recently, she announced her plans to make her comeback at Wimbledon this year. Maybe, this time, she will finally reach her goal in her favorite tournament.
Will Serena win Wimbledon in 2022? Let us know in the comments.