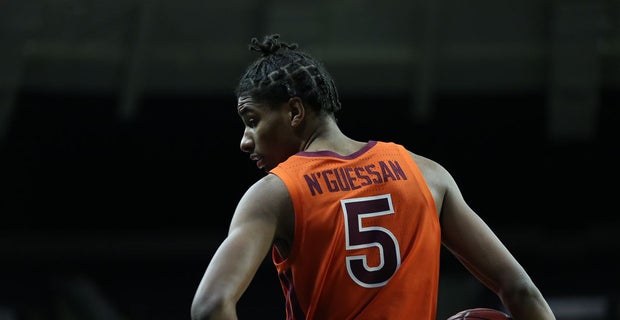 Another Virginia Tech Basketball player is entering the NCAA Transfer Portal.
First reported by Verbal CommitmentsVirginia Tech Forward David N Guessan has entered the NCAA Transfer Portal. The entry has not taken place in the 247Sports Transfer Portal Database at the time of writing.
The 6-foot-9 inch 205-pound forward was a key reserve as a sophomore. The Dutch born player saw his minutes more than double as he played a role in 36 games last season. The Sophomore averaged 3.7 points, 2.6 rebounds and 0.6 assists last season. He marked a career-high with points during the team's season opener against Maine with 15-points. He also registered six games with multiple assists and blocks.
Virginia Tech has seen four players enter the NCAA Transfer Portal from last year's roster.
Freshman Forward Jalen Haynes was the first player to enter the NCAA Transfer Portal on March 23. The 6-foot-8 inch 250-pounder played in nine games and totaled 25 minutes of action. He made 3-of-his-7 field goal attempts for 7 points and 5 rebounds on the season. He has committed to continue his collegiate playing career at East Tennessee State.
Nahiem Alleyne and John Ojiako were the next two players to enter the NCAA Transfer Portal on April 13.
The 6-foot-4 inch 195-pound Alleyne was a key member over the last three seasons for Virginia Tech. He finished his career with the Hokies having played 90 career games and registering 84 starts. For his career, Alleyne averaged 9.7 points, 2.6 rebounds and 1.5 assists per game. Though he nearly doubled his total minutes from his Sophomore campaign last season, Alleyne's averages in points, assists and overall field-goal percentage dropped from his totals during the 2020-21 season. Alleyne committed to UConn.
The 6-foot-10 inch 245-pound Ojiako entered the portal on the same day as Alleyne. The Junior played in 57 career games registering two starts during his freshman season. He averaged 2.4 points, 2.2 rebounds and 0.1 assists per game. He notably played the most as a freshman, logging action in 31 games and registering 23 blocks. Ojiako remains uncommitted at the time of writing.
N'Guessan marks the fourth player to transfer from last year's roster.
Virginia Tech did receive a commitment from John Camden, who transferred out of Memphis. The 6-foot-8 inch 208-pound forward only played in 2 minutes of action as a freshman due to injuries. He was heavily recruited by Virginia Tech out of high school and joins the fold for the 2022-23 season.